Hang your items per photos-scroll down for more info
Hang your items per photos-scroll down for more info
Hang your items per photos-scroll down for more info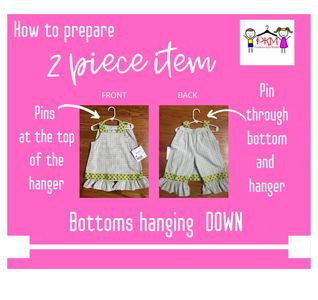 Print tags from Consignor homepage using white/cream cardstock only-NO PAPER. No glossy yardstick.
Use safety pins/tagging guns to secure tags.
NO PANTS FOLDED OVER HANGER-PIN TO HANG DOWN FROM TOP OF HANGER.
If using tagging guns do not put through garment-only in an arm seam or the garment tag.
SHOES
DO NOT PUT SHOES IN BOXES OR BAGS. SECURE TOGETHER WITH ZIP TIES/RIBBON/STRING.
STROLLERS/TOYS/BOOKS
Large toys print TWO tags and tape in different place.
Strollers/baby gear-CLEAN everywhere to help sell better!
Wrap book sets together with plastic.
ALL toys need to be clean, work and have batteries!
Place small toy/game parts in bags and secure to toy.
Complete Consignor Instructions below Section 3 or on Consignor instruction page.